Life is suffering, and death is inevitable. Buddhism (as well as many other eastern philosophies) teaches that these two statements are parts of the, if not the entire, core of the human experience. After all, nothing is more certain than the fact that, eventually, the universe will self-destruct and everything we know will be erased.
Let's avoid nihilism, at least for a moment. For those of you not familiar, The Binding of Isaac is a phenomenal game with high replay value. It's also one of the most shockingly adult games I've ever played, with an all-too-brief story of a boy names Isaac whose mother has a psychotic episode and believes God is telling her that Isaac has become corrupted/sinful/impure.
She takes his toys and clothes, and shaves his head, but the voice commands her to kill him, much like how God commands Abraham to kill his son, also Isaac, in The Bible. Our Isaac, though, finds escape through a strange trapdoor in his room which basically leads to an ever-changing hellscape full of monsters. "Mom" is a boss, as is "Mom's Heart" and "It Lives," which is basically a vengeful fetus god (lookin' at you, Silent Hill 3).
Given that your main attack is to shoot tears at the enemies until they die, and many pickups hurt Isaac (by actively damaging him or causing him emotional/bodily distress, making his tears larger/more powerful), it's clear to see that this game isn't for the faint of heart. But, despite its incredible learning curve and difficulty scale, it's the most meditative gaming experience I've ever had.
Death is Inevitable

Sticking with this for a moment, I go in expecting to die. Did I get blown away on the first level? No problem! I figured that might happen. Die at the final boss? Well, heck, at least I made it that far, and I know better for next time. I've gotten blasted at the last second so many times that I recently had a perfect run (no damage) during the battle against Mom's Heart, generally known as a Bullet Hell.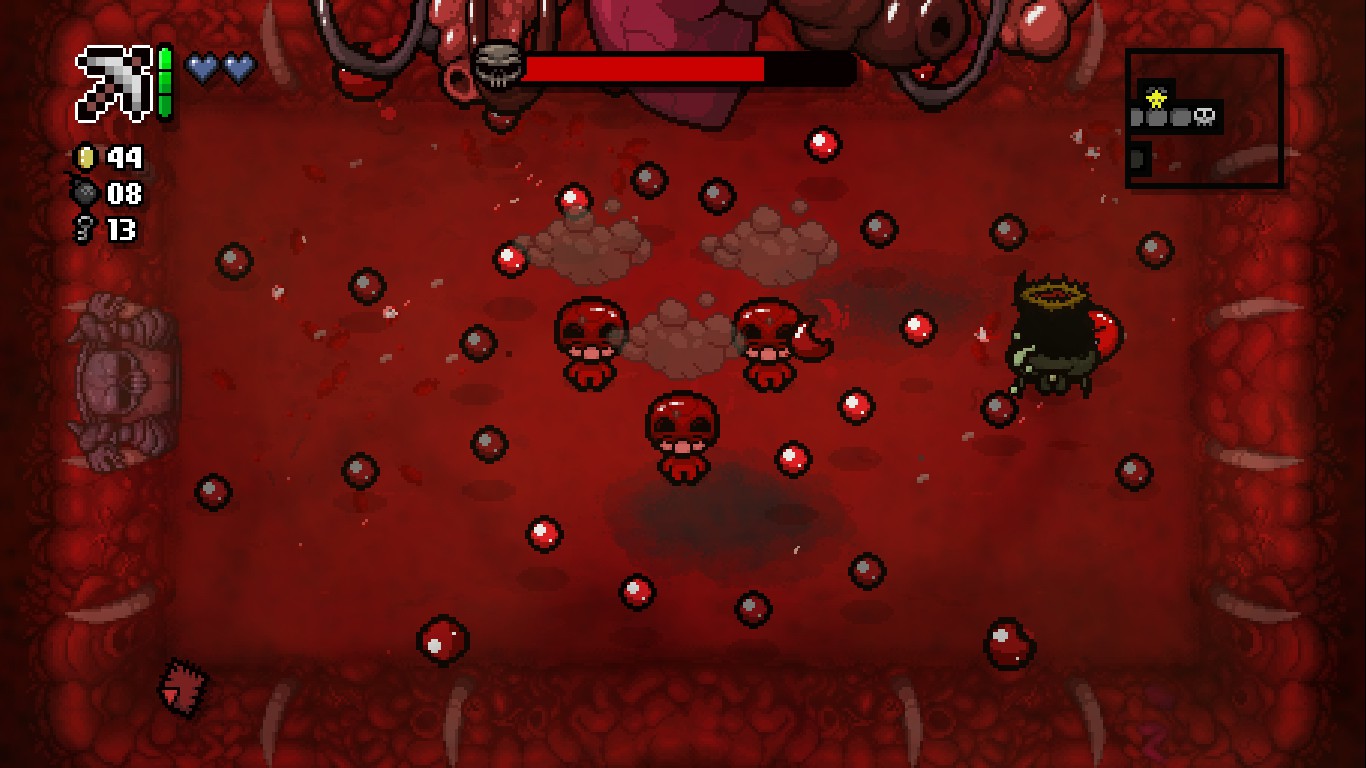 Steam user Lunick says, "**** this game," but I say, "If I'm still alive in twelve seconds, I'm eating a whole victory cheesecake."
Life is Suffering
The Binding of Isaac uses a couple different sacrifice mechanics, ranging from donating health to get money, which can be donated (for unlockables), spent at shops, or given to beggars (for gifts), all the way to actually sacrificing yourself by impaling Isaac on spikes in given rooms. (Brief note: he's, like, five. Maybe younger. This game is brutal.)
Why is this zen? Because it teaches you not to be prideful by holding onto all that extra health, especially if you've left pickups behind in other rooms. Sure, if you're on your last heart container, I recommend visiting a Great Fairy getting some more health before forking over the rest to a Demon Beggar, but I can't tell you how many times I've given away most of my life force only to surge back and obliterate all before me.
You are One with Everyone
Isaac is technically the only character in the game, but he takes on the forms of different Biblical characters, like Azazael, Samson, and Lilith (in the new, disgustingly-perfectly-named Afterbirth expansion). He's always Isaac, yet shares the collective knowledge and experience of these other figures (doubly so, considering unlockables and donations carry across all runs in a given save file).
Buddhism teaches this very same concept: that we share in the collective experience of all mankind. Good things that happen to one of us happen to all of us; trauma and danger–like a child's mother trying to kill the child–harm everyone, hence why all these other figures are trapped in the magical door to hell too.
Those are my thoughts on this game. What are yours? Give me a shout in the comment section!